The Longs Peak Chapter, NSDAR, has four historical markers in the city of Longmont.
This marker is "Dedicated to the Memory of the Pioneer School Teachers of Longmont 1871 Byron L. Carr and Mary L. Carr." It is located in the "Old Longmont High School," now the Main Street School at 820 Main Street.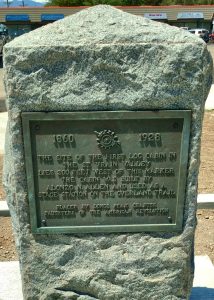 In 1928, the Longs Peak Chapter erected this monument to mark the spot where the first log cabin and stage stop was built in Burlington which is now Longmont. It is located on Main Street near Delaware Avenue at the southwest end of the St. Vrain Creek Main Street Bridge.
The third and fourth markers are a set of two markers that are in Old Mill Park at 237-239 Pratt Street in Longmont. These markers are at the Robert A. Hauck Mile House. One marker is on the outside of the building and one is on the inside of the building.
Longs Peak Chapter installed a sandstone bench honoring the 13 organizing members who started the chapter in 1916. The bench was placed on the west side of Roosevelt Park in the Memorial Rose Garden in summer 2019, but due to COVID-19 delays, it was not dedicated until September 2021.